TO EVALUATE THE OUTCOME OF SUBLAY OPEN MESH REPAIR IN INCISIONAL HERNIA
Keywords:
KEYWORDS: Incisional Hernia, Ascites, Seroma Formation, Infection, Recurrence.
Abstract
ABSTRACT
INTRODUCTION: Incisional hernia is a protrusion of the tissue developed at the site of healing
/8scar. This hernia accounts for 15-20% of all abdominal hernias. The causes include respiratory,
urological and abdominal problems like chronic cough, difficulty in passing urine and constipation
etc. Pregnancy and ascites are also etiological factors. Postoperative wound infections and wound
dehiscence are also responsible for developing incisional hernias. Open sublay mesh repair is the
best procedure in this regard. OBJECTIVE: - To assess the efficacy of Sublay Mesh repair in
patients suffering from incisional hernia. MATERIAL AND METHODS: This is study of one
year done in Chandka Medical College Hospital Larkana from March 2019 to February 2020. All
the patients were taken from OPD. Clinical History particularly Past history of Surgry was taken.
Patients were optimized and fitness was taken for surgery. Mesh of required size was arranged and
patients were operated for Open Sublay Mesh repair. Follow up was gotten. RESULTS: Total
patients included in this study were 45. Of them, 25(55.5%) were female and 20 (44.4%) were
male. Seroma formation was in 9(20%) patients but the placement of Redivac drain resolved the
issue instantly. Infection was seen in 1(2.2%) patient only. Recurrence was noted in 1 (2.2%). Flap
necrosis was seen in no any patient. The rate of fecal fistula was 0%. CONCLUSION: - Sublay
open Mesh repair was the best method in our study with good results and least complication rate.


Downloads
Download data is not yet available.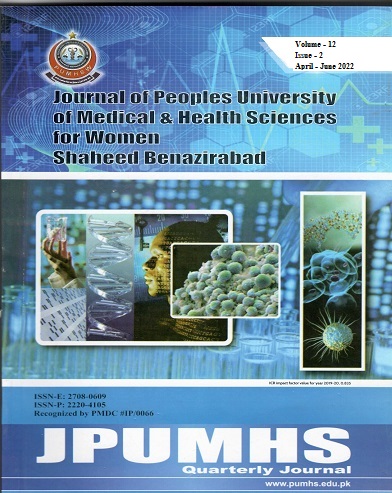 Downloads
How to Cite
Abdul Ghani1 , Muharram Ali Abbasi2 , Ehsanullah Malik3 , Nadia Bhatti4 , Sania Bhatti5 , Waqare-Sahar Shah6 . (2022). TO EVALUATE THE OUTCOME OF SUBLAY OPEN MESH REPAIR IN INCISIONAL HERNIA. Journal of Peoples University of Medical &Amp; Health Sciences Nawabshah. (JPUMHS), 12(2), 19–23. Retrieved from http://publication.pumhs.edu.pk/index.php/ojs/article/view/624
License
This work is licensed under a Creative Commons Attribution-NoDerivatives 4.0 International License.