PREVALENCE OF THYROID DYSFUNCTION IN DIFFERENT AGE AND GENDER GROUPS.
http://doi.org/10.46536/jpumhs/2023/13.01.396
Keywords:
Keywords: Thyroid Dysfunction, Hypothyroidism, Hyperthyroidism, T4, TSH, Age, Gender.
Abstract
Abstract
Introduction: Thyroid disorders are increasing day-by-day throughout the world, especially in
sub-continent of Asia. There seem to be 20 million individuals in Pakistan who live in iodinedeficient regions. At a minimum, 1 million individuals have psychological illnesses, whereas 8
million people have had some type of iodine deficiency. This study was designed to determine
thyroxine (T4) and Thyroid Stimulating Hormones (TSH) level in suspected patients of different
age groups and gender. Methodology: This cross-sectional survey lasted three (03) months, from
September to December 2020. The work was authorised by the ethics committee of Abdul Wali
Khan University's Department of Biotechnology in Mardan. The research included a total of 177
suspected patients. All individuals referred by medical doctors after recognizing signs and
symptoms of thyroid dysfunction, regardless of age or gender, were recruited. A statistical
programme for social version (SPSS) 22 was utilized to analyze data. Results: overall 177
potential candidates got examined. An average age of the individuals that were enlisted were
33.8 17.3, including a minimum seven years as well as a maximum age of 80. Among total, 26%
male and 74% were female patients. Majority patients were found in age group 30-70 years.
Total thyroid dysfunction in females was 43.8% and 6.4% in male patients. Sub clinical
hypothyroidism in females were found very high (16.0%), followed by hypothyroidism and
hyperthyroidism (9.2%) and euthyroid sick syndrome (4.6%). In males only hypothyroidism
were observed in 6.4% patients. Conclusion: Thyroid dysfunction is common among patients,
especially among females and the elderly. Iodine-rich foods should be consumed. People's
awareness in Pakistan, particularly in KPK, is nil. People's health awareness should be raised,
and basic health care facilities should be made available.
Downloads
Download data is not yet available.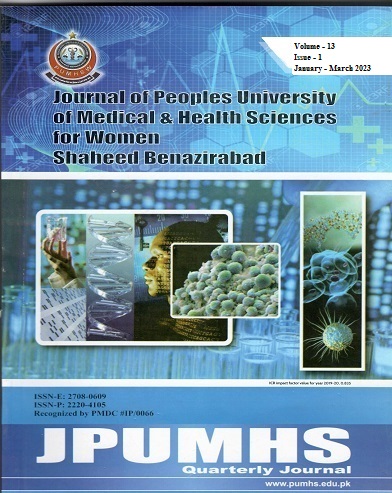 Downloads
How to Cite
Sajid Ali1 , Mehnaz Bilal2 , Fayaz Ahmad Khan3 , Atiq Ahmad4 , Sumbal Hussain5 , Nourin Mahmood6. (2023). PREVALENCE OF THYROID DYSFUNCTION IN DIFFERENT AGE AND GENDER GROUPS.: http://doi.org/10.46536/jpumhs/2023/13.01.396. Journal of Peoples University of Medical &Amp; Health Sciences Nawabshah. (JPUMHS), 13(1), 129–134. Retrieved from http://publication.pumhs.edu.pk/index.php/ojs/article/view/696
License
This work is licensed under a Creative Commons Attribution-NoDerivatives 4.0 International License.