FACE BOOK POSITIVE AND NEGETIVE IMPACTS ON MEDICAL STUDENTS.
http://doi.org/10.46536/jpumhs/2023/13.01.399
Keywords:
Keywords: Facebook, Medical Students, Pakistan, Mental Health, Academic Performance
Abstract
Abstract
Introduction: Facebook use is on the rising amongst Pakistani medical graduates; however it's
questionable whether this has direct effect on their mental health or educational achievement.
The intent of this research is to look at the advantages and disadvantages of Facebook use among
Pakistani medical graduates. Location of Study, Sample Details, Size, and Duration: 385
medical students participated in the study at the KMC / Peoples University of Medical and
Health Sciences for Women (PUMHSW) in Nawabshah, Pakistan. The information was
collected for the study over the course of a full calendar year, from January 2022 to December
2022, using a cross-sectional methodology. A self-administered questionnaire that evaluated the
research participants' usage of Facebook, mental health, and academic performance was also
filled by them. Results: A number of 385 pupils from various classrooms were chosen, & 90%
of the questionnaires were accurately completed. The average age of the respondents, was ranged
in age from 18 to 22 years, was 19.5 years. All students were females. There were 15.85%
students from 1st year MBBS, 18.18, 16.88, 12.98 and 36.36% 2nd, 3rd, 4th and final year
respectively. majority of students 33.76% were using face book up to 01 hour, while others
25.98%, 18.18%, 15.58% and 6.49% for 02, 03, 04, and 05 hours respectively. In accordance
with the research, Pakistani med professionals' use of social media had both favourable and
unfavourable effects on their emotional well-being & educational success. Conclusion: The
study concludes that while Facebook can be a valuable tool for learning and networking, its
excessive use can lead to negative impacts on mental health and academic performance.
Awareness, guidance, and self-regulation can help medical students use Facebook effectively
and minimize its negative impacts. The study provides useful insights for medical students and
institutions to use Facebook in a balanced and controlled way to optimize its positive impacts
and minimize its negative impacts.
Downloads
Download data is not yet available.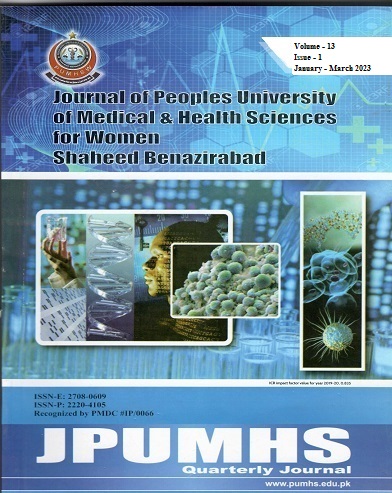 Downloads
How to Cite
Haresh Kumar1 , Guljan Bukhari2 , Farheen Arshad3 , Fariha Awan4 , Janat Memon5 , Afreen Nisar6 . (2023). FACE BOOK POSITIVE AND NEGETIVE IMPACTS ON MEDICAL STUDENTS.: http://doi.org/10.46536/jpumhs/2023/13.01.399. Journal of Peoples University of Medical &Amp; Health Sciences Nawabshah. (JPUMHS), 13(1), 147–155. Retrieved from http://publication.pumhs.edu.pk/index.php/ojs/article/view/702
License
This work is licensed under a Creative Commons Attribution-NoDerivatives 4.0 International License.