A MINI REVIEW: ADVANTAGES AND DISADVANTAGES OF SEMESTER SYSTEM AND ANNUAL SYSTEM
http://doi.org/10.46536/jpumhs/2023/13.01.400
Keywords:
Key words: Modular System Annual System, Universities, Semester System Examinations
Abstract
Abstract
A modular system is a system that is made up of different independent modules or components
that can be combined or interchanged to create a variety of configurations. Every element is
created to carry out a certain task, and as necessary, these may be extended, withdrawn, or
altered to adapt the platform to a specific input. Modular systems are commonly used in fields
such as manufacturing, electronics, and construction. An annual system, on the other hand, is a
system that is based on a yearly cycle or period. This system is commonly used for financial
purposes, where transactions or calculations are recorded on an annual basis. Universities use
different educational systems to teach students, including the Semester System & the Annual
System. In the Annual System, students take tests consecutively throughout the academic year,
while in the Semester System, examinations are held five or six months after the start of the
academic year. There are several differences between the two systems, and this paper aims to
explore their advantages and disadvantages. This study aims to differentiate between the Annual
and Semester Systems, focusing on their objectives and intrinsic values. It aims to compare the
benefits of both systems, taking into account the perspectives of both students and teachers. The
purpose of this study is to help individuals identify which system is more effective and efficient
for their educational needs.
Downloads
Download data is not yet available.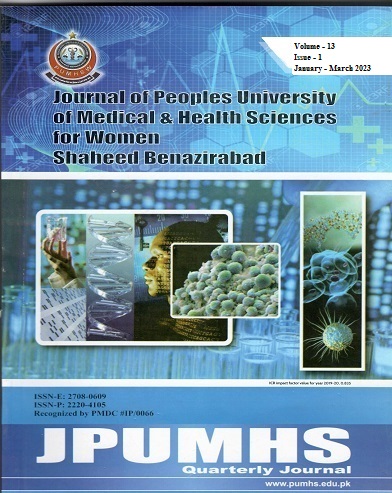 Downloads
How to Cite
Farzana Mallah1 , Aisha Laghari2 . Aqsa Memon3 . Aisha M. Aslam4 . Uyaina Zulfiqar Ali5 , Hafsa Lashari 6. (2023). A MINI REVIEW: ADVANTAGES AND DISADVANTAGES OF SEMESTER SYSTEM AND ANNUAL SYSTEM: http://doi.org/10.46536/jpumhs/2023/13.01.400. Journal of Peoples University of Medical &Amp; Health Sciences Nawabshah. (JPUMHS), 13(1), 156–161. Retrieved from http://publication.pumhs.edu.pk/index.php/ojs/article/view/703
License
This work is licensed under a Creative Commons Attribution-NoDerivatives 4.0 International License.