PREVALENCE, OUTCOME AND RISK FACTORS ASSOCIATED WITH CONGENITAL MALFORMATIONS IN NEONATES AT A TERTIARY CARE HOSPITAL -A RETROSPECTIVE STUDY
http://doi.org/10.46536/jpumhs/2023/13.01.389
Keywords:
Key words: Congenital Anomalies; Birth Defects; Risk Factors; Prevalence; Malformations; Neonates; Mortality.
Abstract
ABSTRACT
INTRODUCTION: There is a high burden of congenital anomalies worldwide and more so in
the developing countries. These birth defects contribute significantly to the neonatal mortality
rate in our country, which is one of the highest globally. Addressing and identifying the risk
factors for these conditions is imperative for their prevention .OBJECTIVE: this study was
done to determine the prevalence of congenital malformations and the risk factors associated
with them. METHODOLOGY: this cross-sectional retrospective study was carried out at the
Pediatric unit of Ziauddin Hospital from 1st January 2020 till 1st January 2023.Data was extracted
from the electronic health records and entered on a pre-designed proforma. Information
regarding maternal risk factors , antenatal visits ,neonatal characteristics and type of congenital
anomalies was noted .Data was analyzed using SPSS version 20 and expressed as frequencies
and percentages and chi square test was applied with P-value of <0.05 considered statistically
significant. RESULTS :The prevalence of congenital malformations was 4.5%.Anomalies
related to the central nervous system were the highest ,followed by cardiac birth defects .A
smaller percentage undertook regular antenatal visits and folic acid supplementation. Family
history of birth defects is a significant risk factor. CONCLUSION: Congenital malformations
are a frequent occurrence in our set up .Effective antenatal care and screening are the cornerstone
of preventing these disorders.
Downloads
Download data is not yet available.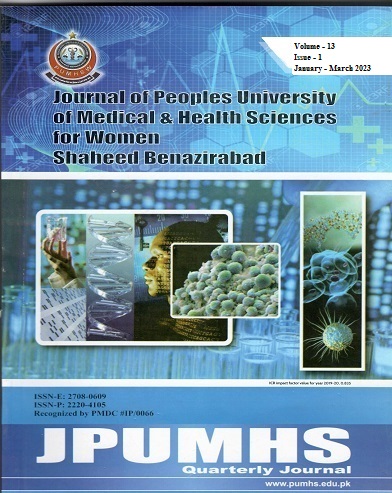 Downloads
How to Cite
Shaista Ehsan1 , Nadia Shahid2 , Mahreen Ahsan3 , Asif Nadeem Jamali4 , Habibullah Siyal5 , Aliza Aman6 , Sundas Parveen7 . (2023). PREVALENCE, OUTCOME AND RISK FACTORS ASSOCIATED WITH CONGENITAL MALFORMATIONS IN NEONATES AT A TERTIARY CARE HOSPITAL -A RETROSPECTIVE STUDY: http://doi.org/10.46536/jpumhs/2023/13.01.389. Journal of Peoples University of Medical &Amp; Health Sciences Nawabshah. (JPUMHS), 13(1), 74–83. Retrieved from http://publication.pumhs.edu.pk/index.php/ojs/article/view/704
License
This work is licensed under a Creative Commons Attribution-NoDerivatives 4.0 International License.