EFFECTS OF MANIPULATION AND CASTING OF PONSETI METHOD OUTCOME IN CHILDREN WITH IDIOPATHIC CLUBFOOT.
http://doi.org/10.46536/jpumhs/2023/13.01.388
Keywords:
Key words: Ponseti method, clubfoot, Pirani score
Abstract
Abstract
Introduction: One of the most prevalent paediatric foot deformity is clubfoot. Idiopathic
clubfoot is a condition for which there is no known cause. The Ponseti Technique became the
best choice for treating clubfoot all around the world. The Ponseti method of treating idiopathic
clubfoot includes weekly serial manipulations and castings until the foot can be abducted to 60
degrees. The patient is subsequently placed in a foot abduction orthosis to maintain the
correction made and prevent the deformity from relapsing after Achilles tendon tenotomy and
casting. Objective: To determine the effects of manipulation and casting of Ponseti method
outcomes in children with idiopathic clubfoot. Methodology: This descriptive cross sectional
study was conducted in orthopaedic department of PMCH Hospital Nawabshah from August
2022 to February 2023. 100 children of both genders with idiopathic clubfoot were included.
After enrolment complete history and physical examination of all children were carried out.
Informed written consent was taken from parents or guardians of the children. Data were entered
in excel sheet and analyzed in SPSS version 21. Qualitative variables were presented in
percentage and frequencies while quantitative variables were presented in mean and standard
deviation. Paired sample t test was applied. Results: According to our results, 100 children with
clubfoot were included in this study. 50 children were male and 50 children were female. The
mean ages of children were 4.02 months. Bilateral clubfeet were 53% and unilateral clubfoot was
47%. The right club foot was 32% and 20% was left side. The average no: of cast were 5.45.
41% of children need tenotomy. The initial Pirani score was 3.140. The final Pirani score mean
was 0.60. Post stratification data analysis revealed statically significant between initial and final
Pirani score with P-value (0.001). Conclusion: Clubfoot can be effectively treated with the
Ponseti method of casting and manipulation.. It is the simplest approach. Therefore, we advise
using this method as the first line of treatment for infants with idiopathic club feet.
Downloads
Download data is not yet available.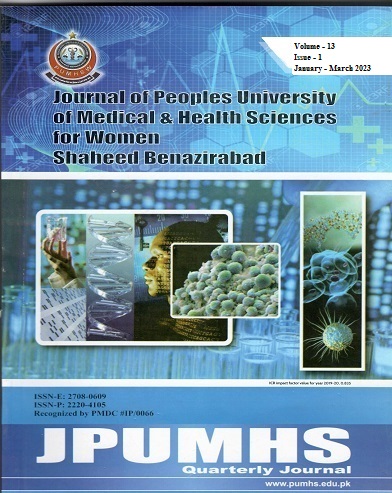 Downloads
How to Cite
Sundas Mastoi1 , Muhammad Usman2 , Sana3 . (2023). EFFECTS OF MANIPULATION AND CASTING OF PONSETI METHOD OUTCOME IN CHILDREN WITH IDIOPATHIC CLUBFOOT.: http://doi.org/10.46536/jpumhs/2023/13.01.388. Journal of Peoples University of Medical &Amp; Health Sciences Nawabshah. (JPUMHS), 13(1), 68–73. Retrieved from http://publication.pumhs.edu.pk/index.php/ojs/article/view/710
License
This work is licensed under a Creative Commons Attribution-NoDerivatives 4.0 International License.