CHALLENGES FACED BY STUDENTS AND FACULTY DURING ONLINE CLASSES AND EXAMINATIONS – FINDING A WAY FORWARD
http://doi.org/10.46536/jpumhs/2023/13.01.401
Keywords:
Key words: Online, Teaching, Learning, Challenges, Merits and De-Merits
Abstract
Abstract
Introduction: The traditional concept of classroom learning has been gradually replaced by
online teaching since the year 2020 when the world witnessed COVID-19 pandemic which
caused closing down of all teaching institutions across the globe, making more than one billion
children sit at home. Aim: To highlight the merits and demerits of online learning and
examination methods and to give recommendations for its improvement. Methodology: The
study population included 421 students and 220 faculty members of Fazaia Medical College
along with and other private schools and colleges of Rawalpindi and Islamabad. An online
survey was conducted using simple random sampling. Data was collected using separate online
Google forms for students and teachers. Results: 71.3% of students preferred on campus classes
and 23% of students did not take online classes seriously. During online exams, more than 50%
students had problems with internet connection and accessing the exam content. 46% of study
participants said that there were no institutional protocols and they felt stressed due to this. More
than 50% teachers preferred taking an online class from home and 25% of them thought that they
were not competent enough to take online classes. Conclusion: The main challenges for students
were lack of institutional protocols, non- availability of electronic gadgets, slow internet
connection during exams and poor accessibility to online exam content. For teachers; their lack
of proper training for conduction of online classes and examinations and non-serious attitude of
students were the main issues
Downloads
Download data is not yet available.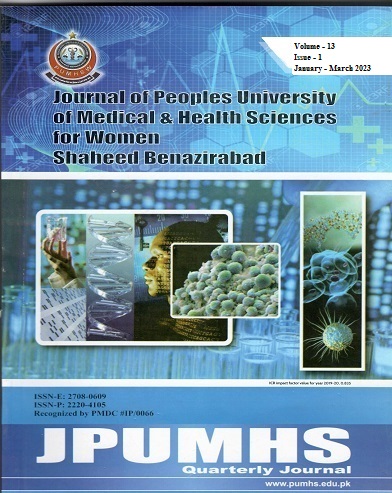 Downloads
How to Cite
Zille Huma Mustehsan1 , Arshia Bilal2 , Asifa Afzal3 , Nida Khaliq4 , Inzamam Khalil5 , Syeda Amna Waseem6 . (2023). CHALLENGES FACED BY STUDENTS AND FACULTY DURING ONLINE CLASSES AND EXAMINATIONS – FINDING A WAY FORWARD: http://doi.org/10.46536/jpumhs/2023/13.01.401. Journal of Peoples University of Medical &Amp; Health Sciences Nawabshah. (JPUMHS), 13(1), 162–171. Retrieved from http://publication.pumhs.edu.pk/index.php/ojs/article/view/712
License
This work is licensed under a Creative Commons Attribution-NoDerivatives 4.0 International License.