TO ASSESS KNOWLEDGE, ATTITUDE, AND PRACTICE TOWARDS HEPATITIS B VIRUS INFECTION IN PATIENTS COMING TO GASTROENTEROLOGY OPD AT RAWAL INSTITUTE OF HEALTH SCIENCES, ISLAMABAD
http://doi.org/10.46536/jpumhs/2023/13.01.404
Keywords:
Keywords: HBV infection, chronic hepatitis B, awareness, Pakistan
Abstract
ABSTRACT
Objective: The objective behind this study was to assess knowledge, attitude, and
practice towards hepatitis b virus infection in patients coming to gastroenterology OPD
at Rawal Institute of Health Sciences, Islamabad. Methods: This population & hospitalbased descriptive study was conducted through a convenience sampling technique from
1
st March, 2022 to 31st August, 2022 in the department of general medicine, Rawal
Institute of Health Sciences, Rawalpindi. The study implemented 24- close ended
questions consisted of three sections through which knowledge, attitude, and practice
were assessed regarding HBV infection. All baseline and clinical data were taken using a
structured questionnaire and then entered & analysed using SPSS v. 22. Results: A total
of 243 patients who responded to the questions were included in this study for final
analysis. Overall mean age and SD was 36.27±17.81 years. The age range between 18
years to 85 years and majority belongs to young age group, ≥18 – 40 years (40.74%, n
=99). Study participants had overall good knowledge (79.21%) while average practice
regarding HBV was (57.83%) regarding HBV infection. Conclusions: Most of our study
participants were males and belong to younger age group. Overall response rate of
knowledge regarding HBV infection was good and most of the participants will seek
medical attention if they get infected. Unluckily, only a small percentage of participants
(11.11%) participated in health education regarding HBV infection
Downloads
Download data is not yet available.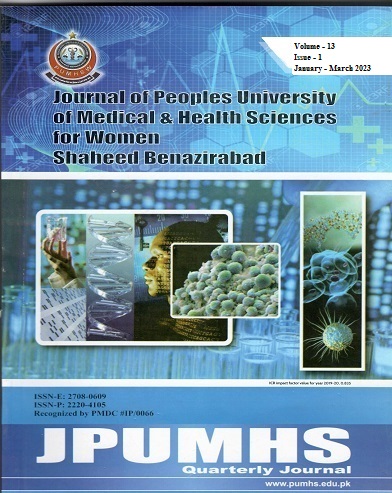 Downloads
How to Cite
Anwar Hussain Abbasi1 , Aasia Zameer2 , Taqdees Abrar3 , Hina Andaleeb4 , Khawaja Ishfaq Ahmed5 , Nadeem Yousuf6. (2023). TO ASSESS KNOWLEDGE, ATTITUDE, AND PRACTICE TOWARDS HEPATITIS B VIRUS INFECTION IN PATIENTS COMING TO GASTROENTEROLOGY OPD AT RAWAL INSTITUTE OF HEALTH SCIENCES, ISLAMABAD: http://doi.org/10.46536/jpumhs/2023/13.01.404. Journal of Peoples University of Medical &Amp; Health Sciences Nawabshah. (JPUMHS), 13(1), 186–193. Retrieved from http://publication.pumhs.edu.pk/index.php/ojs/article/view/723
License
This work is licensed under a Creative Commons Attribution-NoDerivatives 4.0 International License.