PREVALENCE OF HEPATIS B AND C AMONG BETA THALASSEMIA MAJOR PATIENTS AT A TERTIARY CARE HOSPITAL
http://doi.org/10.46536/jpumhs/2023/13.01.405
Keywords:
Key words: HCV, HBV, β-thalassemia, transfusions
Abstract
ABSTRACT
Introduction: The beta-thalassemia are among the most prevalent hereditary diseases, and they
influence the lives of millions of children all over the world. Because appropriate viral screening
of donated blood has never been carried out, the infection risk in -thalassemia individuals serve
as a signal for the hazard of transfusion-transmitted illnesses, specifically hepatitis B and C as
well as other viral infections. Objective: To determine the prevalence of hepatitis B and C
among beta-thalassemia major patients at a tertiary care Hospital.Material and methods: This
descriptive cross-sectional study was done at the pediatric department at SKBZ/AK, CMH
Hospital Muzaffarabad, during a period of six months from October 2019 to March 2020. All the
beta thalassemia major patients, aged up to 15 years, and both genders, were included. Following
informed consent, a 3-5 mL blood sample was collected from each case and immediately sent to
the hospital diagnostic laboratory to screen for HCV and HVB infections using the Elisa method.
All the informatiosn was collected via a study proforma, and SPSS version 26 was used for data
analysis.Results: A total of 87 patients with beta thalassemia major were studied; their mean age
was 10.0+3.68 years. Males were 55.8% and females were 44.8%. Out of all 35.6% patients were
infected by HCV, while only one patient found with HCV and HBV co-infection. As per the
stratification, HCV infection was significantly linked to age more than 10 years (p-0.001), while
statistically insignificant according to gender (p-0.344). Conclusion: As per the study
conclusion, HCV infection was observed to be highly prevalent among patients with betathalassemia major. It was positively related to the blood transfusions. Unfortunately, due to the
high incidence of these viruses in individuals with beta thalassemia, it would appear that the
precautions used in blood preparation and testing to prevent infections that are transferred by
blood transfusion are still insufficient.
Downloads
Download data is not yet available.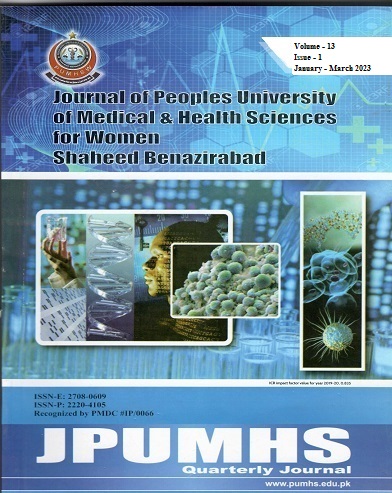 Downloads
How to Cite
Mubashara Murtaza1 , Kiran Ashfaq Ahmed2 , Maryam Abbasi3 , Aalya Farooq4 , Momina Shafique5 , Naheem Ahmed6. (2023). PREVALENCE OF HEPATIS B AND C AMONG BETA THALASSEMIA MAJOR PATIENTS AT A TERTIARY CARE HOSPITAL: http://doi.org/10.46536/jpumhs/2023/13.01.405. Journal of Peoples University of Medical &Amp; Health Sciences Nawabshah. (JPUMHS), 13(1), 194–199. Retrieved from http://publication.pumhs.edu.pk/index.php/ojs/article/view/724
License
This work is licensed under a Creative Commons Attribution-NoDerivatives 4.0 International License.