COMPARISON OF RADIAL VS FEMORAL APPROACH IN ELDERLY PATIENTS UNDERGOING PERCUTENEOUS CORONARY INTERVENTION
http://doi.org/10.46536/jpumhs/2023/13.01.403
Keywords:
Key words: coronary angiography; radial artery; complications; coronary intervention
Abstract
Introduction The radial access might have less complications than the femoral access.
Objective: In older individuals with changed vascular anatomy, it might potentially be more
challenging. In contrast to the femoral method, we evaluated the success rates, technical
details and complication rates of radial angiography in elderly patients. Material &
Methods: This study was conducted at the Cardiology Department Saidu Group of
Teaching hospitals between January 2019 and January 2020. In this study, we enrolled all
patients referred to our center for in-patient invasive angiography who were 65 years of age or
older and had a history of probable coronary artery disease or suspected progression of known
coronary disease. Two groups of patients were equally divided. Each group consists of 500
patients. The femoral artery was accessed by group 2 patients, while the radial artery was
accessed by group 1.Results: Major adverse cardiovascular events (MACE) observed in
group1 in 2(0.4%) cases, and in group 2 in 17(3.4%) cases, all of which were complications at
the arterial access site. Minor adverse events occurred in group2 was 29(5.8%) as opposed to
9(1.8%) in group 1.Overall duration was significantly longer in group 1 as compare to group 2
(31.1 min. vs. 23.5 min) Those in group 1 had a lower mean GRACE score (110±32 versus
128±41), improved renal function according to cretanine level (0.8±0.4 versus 1.0±0.8) and a
reduced prevalence of indications of left ventricular failure (9% versus 23%) when compared to
patients in group 2. Time of admission for the type of ACS heart rate (69±15 Vs 75±16), systolic
arterial pressure (141±30 Vs 150±32), positive troponin 59(79.7%) Vs 51(68.9%),
electrocardiographic ischemia 190(38%) Vs 179(35.8%). Conclusion: In elder patients over
the age of 65, radial coronary angiography have a greater technological success rate and
fewer complications than femoral approach.
Downloads
Download data is not yet available.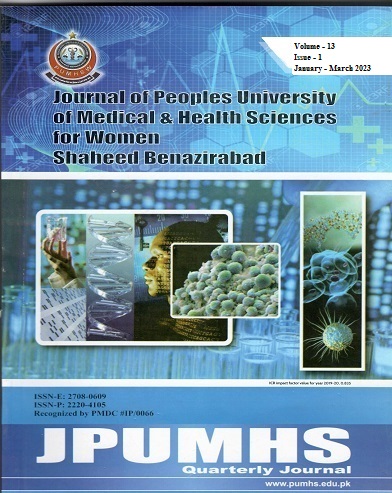 Downloads
How to Cite
Neelam Akhund1 Imad Uddin2 Javeria Akhund3 Itizaz Hakim4. (2023). COMPARISON OF RADIAL VS FEMORAL APPROACH IN ELDERLY PATIENTS UNDERGOING PERCUTENEOUS CORONARY INTERVENTION: http://doi.org/10.46536/jpumhs/2023/13.01.403. Journal of Peoples University of Medical &Amp; Health Sciences Nawabshah. (JPUMHS), 13(1), 179–185. Retrieved from http://publication.pumhs.edu.pk/index.php/ojs/article/view/726
License
This work is licensed under a Creative Commons Attribution-NoDerivatives 4.0 International License.