OUTCOMES OF PRIMARY PERCUTANEOUS CORONARY INTERVENTION WITH AND WITHOUT POST DILATATION IN PATIENTS WITH ST SEGMENT ELEVATION MYOCARDIAL INFARCTION
http://doi.org/10.46536/jpumhs/2023/13.01.384
Keywords:
Key words: PPCI, SPD, LAD, LCX, TIMI
Abstract
ABSTRACT
Introduction: It is debatable how SPD (stent post-dilatation) work during PPCI (primary percutaneous
intervention). It is up to the operator to decide when to execute stent after dilatation because there are
currently no definitive rules or general agreement on the subject. Objective: To assess the results of PPCI
(primary percutaneous coronary intervention) in participants having ST segment elevation myocardial
infarction with as well as without post-dilatation. Methodology: This retrospective analysis research was
performed in Hayatabad medical complex, Peshawar, Pakistan after the approval from the institutional
and ethical review board. The study included 180 patients, both sexes, ages 18 to 70 years, who received
primary percutaneous coronary intervention due to STEMI. The patients' various characteristics, such as
DM, HTN (hypertension), CKD (chronic kidney disease), BMI, smoking history, the location of the MI,
blood pressure, the type of artery, and the TIMI flow before and after the procedure, were recorded in an
excel sheet. Results: Regarding the culprit artery, there wasn't a scientifically significant distinction between
the two categories; group 1's left anterior descending artery (LAD) was observed in 50 (55.5%) cases & in
group 2 in 49(54.4%) cases. Right coronary artery (RCA) in group 1 in 31(34.4%) and 27(30%) in group
2. Left circumflex artery (LCX) in group 1 was noted in 17(18.9%) and 19(21.1%) in group 2. The use of
thrombus aspiration catheters was greater in group 2 than in group 1, with 24 (26.7%) compared to 15
(16.7%). GP IIb/IIIa inhibitors were given to 20 (22.2%) individuals in group 2 compared to 18 (20%)
patients in group 1. Patients in groups 1 and 2 had substantially larger pre-stenting balloon dilatation, 44
(48.9%) and 11 (12.2%), respectively. In both groups, every patient got DES (drug-eluting stents).
Conclusion: In patients with STEMI, selective postdilation enhanced some angiographic and clinical
outcomes, and it could not be discouraged from being used in the primary percutaneous coronary
intervention
Downloads
Download data is not yet available.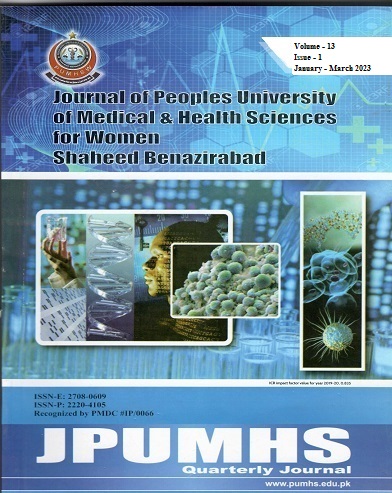 Downloads
How to Cite
Mohammad Ishaq1, Yasir Hayyat2, Muzdalfa Parvez3, Najeeb, Umer4, M. Tayyab5, Iqtidar Ud Din6. (2023). OUTCOMES OF PRIMARY PERCUTANEOUS CORONARY INTERVENTION WITH AND WITHOUT POST DILATATION IN PATIENTS WITH ST SEGMENT ELEVATION MYOCARDIAL INFARCTION: http://doi.org/10.46536/jpumhs/2023/13.01.384. Journal of Peoples University of Medical &Amp; Health Sciences Nawabshah. (JPUMHS), 13(1), 32–38. Retrieved from http://publication.pumhs.edu.pk/index.php/ojs/article/view/683
License
This work is licensed under a Creative Commons Attribution-NoDerivatives 4.0 International License.